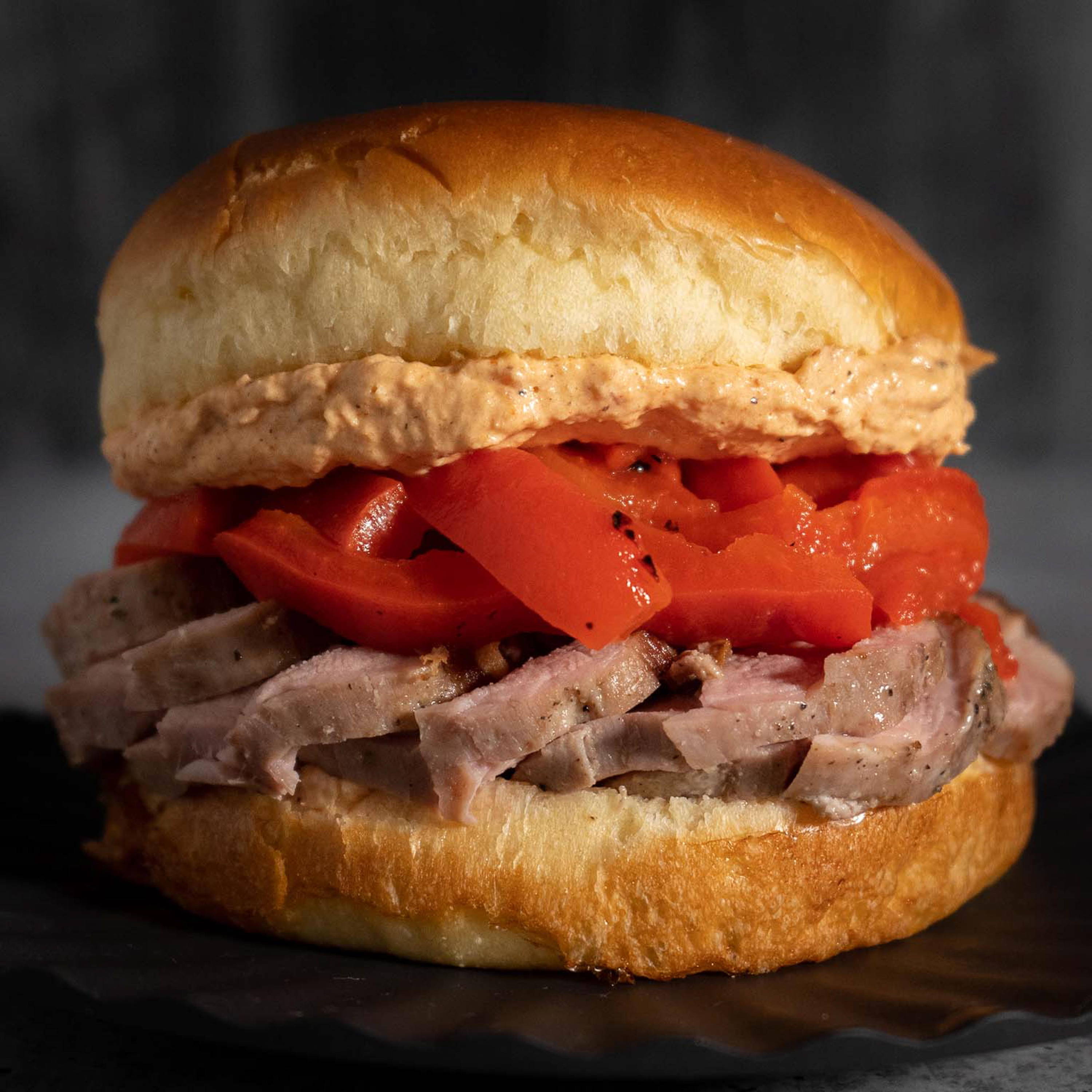 PORTUGUESE-STYLE SOUS VIDE PORK BIFANA SANDWICH WITH CHORIZO MAYO
Bifanas are popular street food sandwiches in Portugal. Usually the pork is marinated with roasted red peppers, cooked and sliced. I take this ordinary Portuguese sandwich and step it up a bit, which means including mayo any chance possible! ~Chef Bri Van Scotter
TIME: 1.25 HRS | ESTIMATED SERVINGS: 6
1 2-pound wild boar or pork tenderloin
1/4 cup Dukes Mayo
4 whole garlic cloves
1 sprig fresh rosemary
1 teaspoon Kosher Salt
1/2 teaspoon ground black pepper
1/4 cup Dukes Mayo, reserved
Dijon or Yellow Mustard
8 ounces, roasted red peppers, rough chopped (can be canned or freshly roasted)
6 brioche buns
1/2 cup Dukes Mayo
1/2 cup salted butter, softened
1 Portuguese Chorizo sausage, cooked and cooled
1 tablespoon powdered harissa
1/4 teaspoon kosher salt
1/4 teaspoon ground black pepper
MEAT! Vacuum Sealer Bags
MEAT! Chamber Vacuum Sealer
MEAT! Sous Vide Cooker
MEAT! Cutting Board
1. Attach the sous vide machine to the water bath container. Plug in the sous vide machine and set the temperature 150F for a medium-well cooking temperature, for 1 hour cook time. Hit start and let the water come up to temperature.
2. In the vacuum seal bag add the tenderloin, mayo, garlic, rosemary, salt and pepper to the bag. Use a chamber vacuum or a vacuum sealer to remove the air and seal the bag.
3. Once the water bath is up to temperature, add the sealed bag to the water bath. Let cook for 1 hour.
4. While the pork is cooking, add the mayo, butter, sausage, harissa, salt and pepper to the bowl. Then process the mixture until everything is smooth and well mixed. Then set aside.
5. Once the pork has finished cooking remove the loin from the bag and gently pat dry with clean paper towels. The set a cast iron skillet over high heat. While the pan is heating up use a basting brush to brush the 1/4 cup reserved mayo all over the cooked pork loin. Then sear the loin quickly on all sides until golden brown on all sides.
6. Then remove the loin from the pan, set it on a clean cutting board to rest for at least 5 minutes, then slice in 1/8-1/4-inch slices.
7. To assemble the sandwich, take the bottom part of the brioche bun and add the mustard of your choice to the bottom portion. Then place about 4 ounces of the sliced pork on top of the bottom portion. Then add the roasted red peppers on top of the pork. The butter the bottom portion of the top brioche bun generously with the chorizo mayo. Then top the sandwich off and enjoy!