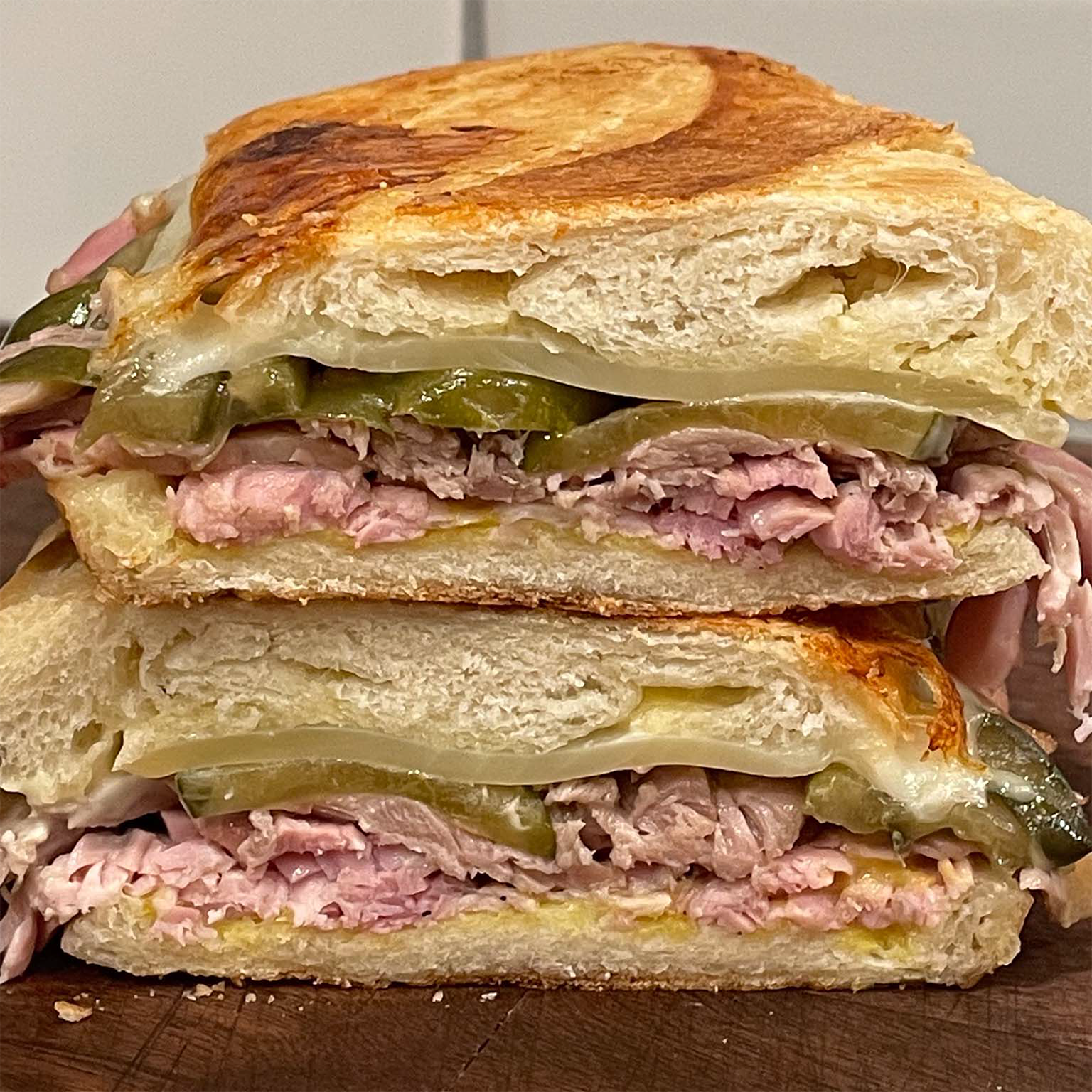 PORK TENDERLOIN SMOKED AND POACHED WITH HELLMANN'S MAYO
Bifanas are popular street food sandwiches in Portugal. Usually the pork is marinated with roasted red peppers, cooked and sliced. I take this ordinary Portuguese sandwich and step it up a bit, which means including mayo any chance possible! ~Chef Bri Van Scotter
PREP TIME: 5 hrs | COOKING TIME: 2 hrs
ESTIMATED SERVINGS: 4
FOR THE PORK
1 ea pork tenderloin
1/4 cup Hellmann's mayo
2 qts water
1/2 cup salt
1/2 cup sugar
3 sprigs thyme
1 T black peppercorns (whole)
1 ea smoked/sous vided pork tenderloin (sliced thin)
3/4 cup Hellmann's mayo
3/4 cups dill pickle chips
6 slices swiss cheese
1/2 cup yellow mustard
4 ea Cuban bread rolls
MEAT! Vacuum Sealer Bags
MEAT! Chamber Vacuum Sealer
MEAT! Sous Vide Cooker
MEAT! 10" Meat Slicer
Pellet smoker
Start by taking the water, salt, and sugar and placing on stove in a small pot over medium heat.

Whisk until the sugar and salt dissolve completely. Add the thyme and black pepper and let cool.

Once cool, add to pork and place in the fridge for 3 hours then remove and pat dry.

Set your favorite pellet grill/smoker to 250°F and place the tenderloin

on the grill.

Cook for about 30-40 minutes until the internal temperature has reached 130°F. Remove and let cool.

While the pork is cooling, place the MEAT! Sous Vide Cooker in a tall pot.

Fill the pot with warm water above the minimum fill line and set to 145°F.

Once cool, place in the correct sized MEAT! Vacuum Sealer Bag with the 1/4 cup of HELLMANN'S mayo and seal using the MEAT! Chamber Vacuum Sealer.

Place the bag in the water and cook for 35 minutes. Remove and cool in ice water.
Use the MEAT! 10" Meat Slicer and slice the meat on 4 until the entire loin is sliced.

Cut the Cubano bread in half and spread the Hellmann's mayo evenly on one side of the bread halves and the mustard on the other.

Spread the sliced pork loin evenly on the bottoms of all 4 Cubanos.

Next, spread the swiss cheese evenly amongst the tops of the Cubanos, each one getting a slice and a half of cheese.

Spread the dill pickles evenly on all 4 sandwiches and top each Cubano with cheese covering the top half.

Place a large pan on the stove over medium heat and place a small amount of butter in the pan.

Place Cubano(s) in the pan bottom side down and press down with some sort of weight (a cast iron pot works great). NOTE: you may need to cook the Cubanos in batches depending on the size of your pan.

Cook for about 3-4 minutes until the bottom is golden brown and the cheese has started to melt.

Remove the weight, flip the Cubano, and return the weight and press down.

Cook for another 3-4 minutes until the top is golden brown and the cheese has melted.

Remove from pan. Cut in half and serve.