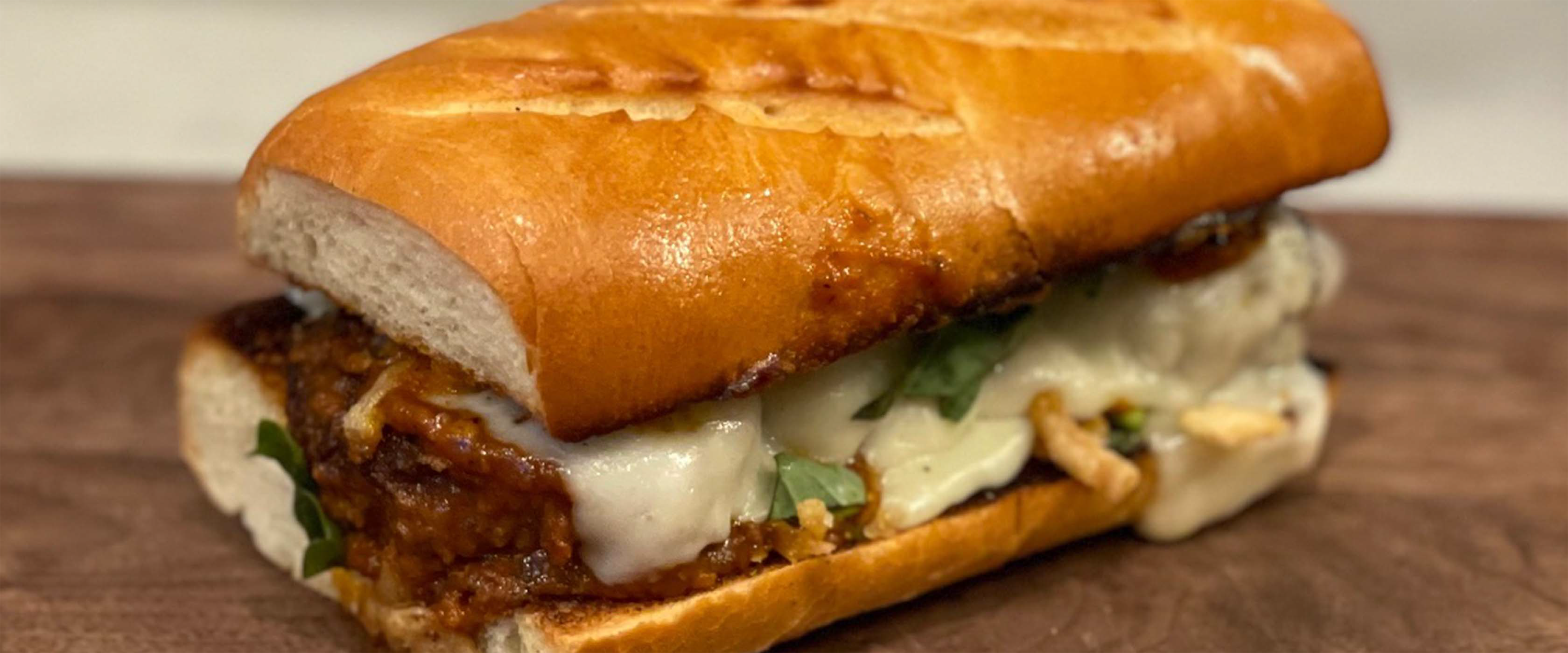 MEATBALL SUB WITH SPICY TOMATO
SAUCE & FRIED ONIONS
I've always loved meatballs especially meatball subs, but they can be so dry and tasteless so I wanted to set out to create the most moist and tender meatball I could and slap it on a sammy. I think we got pretty darn close
~Chef Cosmo Goss
PREP TIME: 45 MINUTES
ESTIMATED SERVINGS: 4-6
2# of Bison shoulder (can sub Buffalo)
4-6 ea hoagie rolls
3 cups tomato sauce (store bought works too)
1 cup fried onions
1 cup chopped basil
12 slices provolone cheese
1 & 1/4 T salt
1 T dried oregano
1 T black pepper (ground)
1 T fennel seed (ground)
1 T fresh rosemary (chopped)
1/8 t cayenne pepper
1/4 t chile flakes
1/4 cup roasted garlic
1/2 cup yellow onions (diced)
1/2 cup parmesan cheese (shredded)
1 egg
1 egg yolk
3/4 cup soda water
1/2 cup milk
1 & 1/2 cup panko bread crumbs
MEAT! 500W Grinder
MEAT! Dry Good Digital Scale
MEAT! Cutting Board
Take your Bison and cut it into 2-inch cubes and grind it through your MEAT! 500w Grinder.

Next take the roasted garlic, onions, rosemary, spices, salt, parmesan, eggs and milk and blend on high until smooth (about 1 minute).

Mix the pureed onion/spice mixture with the bison meat and the bread crumbs and mix well in a bowl.

Form the mixture into roughly 2.5 oz balls.

Place a large high sided sauté pan over high heat and place a small amount of high heat oil (canola oil, rice bran oil, etc).

Once the oil is nice and hot sear the meatballs until golden brown on the top and bottom, reduce the heat to medium and add in the tomato sauce.

Bring the sauce to a simmer and turn heat to low and cover. Cook until the meatballs are all the way cooked through (about 10-12 minutes)

While the meatballs are cooking toast the hoagie rolls in the oven.

Once the meat balls are done spread tomato sauce on the top and bottom of the buns, top each bottom bun with 3 meat balls followed by fried onions and chopped basil.

Top each sandwich with the top bun, cut in half and enjoy.
A 28 oz can of peeled whole plum tomato

1 & 1/2 cups water

3 cloves garlic, minced

1/4 cup extra virgin olive oil

1 t black pepper

2 t chile flake

Salt to taste
Heat the olive oil over medium heat in a small pot and add the garlic.

Stir often until the garlic is golden brown and add the remaining ingredients.

Bring the sauce to a simmer and cook for about 30-40 minutes until it has reduced by about 1/4-1/3.

Remove for the heat and blend until smooth.

Season with salt and let cool.
Add leaves from 1/2 bunch basil and enjoy!